Sunday, December 23, 2007
Saturday, December 22, 2007
Friday, December 07, 2007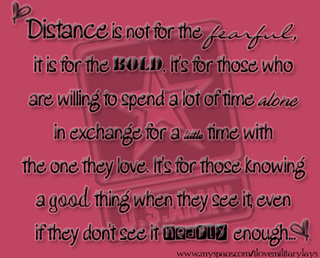 I have to share something that happened to me tonight. I have not been using the air conditioner during the day and it gets pretty hot in the house. This afternoon after the boys woke up from their naps we were pretty hungry but it was far too hot to cook... So we headed off to the mall to eat at Furrs and then let Auron run off some energy.

We sat down at the table

(like always),

unloaded our tray

(like always),

said our prayer of thanks

(like always),

and were about halfway through our meal when an older gentleman stopped at our table.
"Excuse me Mam... I noticed your dog tags, is your husband marching through the sand?"

"No Sir. Not yet at least..."

"Is he in town with you?"
"No Sir, He is gone for training right now."

"Oh, how long has he been gone?"

"About seven months, but he will be home soon."

"Hmmm,

(as he takes the ticket off my table)

Well, I'm going to take care of this for you today."
And before I had time to do anymore than stutter a timid
"thank you",
he was gone. I burst into tears. Auron thought something was wrong because I sat there sobbing like a baby. This random stranger reached out to do something kind for me and touched my heart beyond words.

You hear people talk about supporting our troops all the time, but those who are not in the military seldom think about the families attached to those troops. It is not hard to be a military family

ONLY

when your soldier is in a war zone. It is hard every day... especially when we are apart. Training and non-war deployments are hard for military families too and so often people loose sight of that fact. This complete stranger acknowledged that with a simple

(and wonderfully touching)

random act of kindness that I will always remember.